Fundraising
Although we are not a registered charity, we are committed to raising funds to help support our work at the library, to fund community events and the groups that operate in the library. We run several fundraising events throughout the year, such as craft fairs, quizzes, raffles, tombolas and competitions.
Improving the access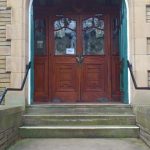 One of our main aims is to improve the access into the building, to allow a wider section of the community to use the library, as the steps up to the library act as a barrier to the disabled, less mobile and parents with pushchairs. The issue of the library being Grade II Listed also provides us with additional challenges, as any changes or improvements would have to be in line with planning regulations.
Find out more about our Rastrick Big Local grant.

Events
Throughout the year we organise several events to help raise funds, but also to foster community links and provide a social hub to local residents. Past events have included craft fairs, author events, quiz evenings and National Libraries Week events. See our News and Events page for details of future events.